Of all our goals, inspiration and education are paramount.
Music inspires, and great music inspires greatly.
The music we perform is history, whether it is a 250-year-old Mozart Symphony or a piece written in this decade by a young African-American woman. This history, through music, can teach as few other media can.
We have the ability to reach out, touch souls, and change lives.
We've been doing this in Bridgeport for three-quarters of a century, but never so ardently as in the past several years. Under the direction of our dynamic young conductor, Eric Jacobsen, GBS has been a presence in Bridgeport schools. We've brought musicians into classrooms, and the entire orchestra into all three high schools for live concerts. The world-famous violinist Gil Shaham accompanied the orchestra to Central High School in 2019.
Even during the Pandemic, GBS continued to serve our community, providing much-needed live entertainment, safely, in outdoor venues, as well as a full virtual season for our subscribers – something no other orchestra in our part of the country did. The Pandemic itself made GBS stretch itself into new realms, such as the creation of educational concert videos for use in music classes in Bridgeport, and we continue to provide this resource even as the Pandemic recedes.
We hope to see you all at The Klein again – soon!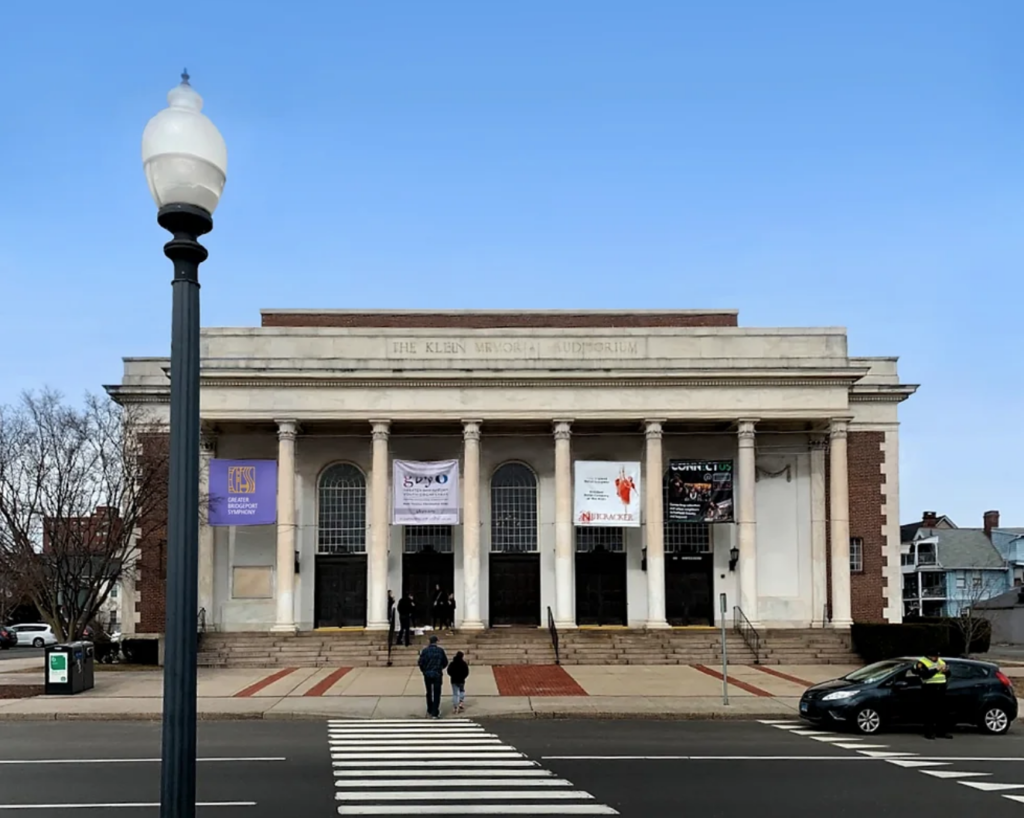 Our 77th Season, themed "Turn, Turn, Turn" began with fireworks on September 10 at The Klein, as Eric Jacobsen thrilled the audience with Dvorak's 8th Symphony and an incredible performance of Rachmaninoff's seldom-heard Piano Concerto #4. Three concerts will follow (November 12, December 17 and March 18) will showcase the talents of three exceptional candidates – all hand-picked by Eric Jacobsen – to succeed him as Music Director next season. The season finale on April 8, 2023 will be Eric's final concert as Music Director, and promises to be a night to remember. All concerts this season are at The Klein Memorial Auditorium on Saturday evenings at 8 PM.
GBS is about more than concerts
GBS is a major presence in the educational community of our region. Through special programs, mentorship, in-school concerts, school visits and other activities, GBS has touched the lives of countless students with the glories of Classical music. Our competitions have brought out the best in youth and composer talent over the years.
Musicians-to-Go
GBS' Musicians-to-Go program can provide the perfect musical enhancement for your next special event. Please email or call our office for details.