GBS' educational outreach exposes students in the Greater Bridgeport community to the discipline and beauty of orchestral music.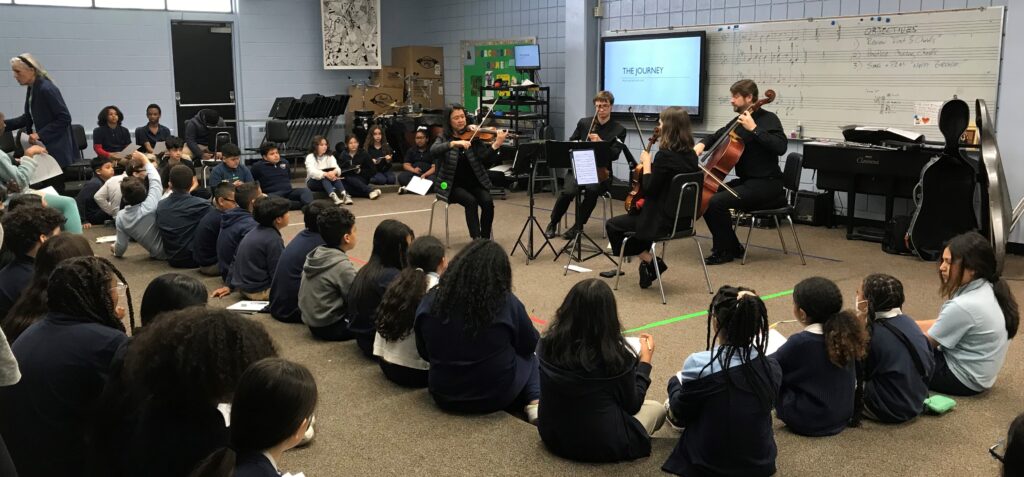 Our students are rarely exposed to Classical music in such an intimate way. An experience like this, where they get to see different applications of Classical music, is inspiring and eye-opening. They come away with a different perspective on a genre that's usually considered "not their type" of music.

Colleen Filush
Music Teacher, Central High School, Bridgeport
following an in-school concert at Central
that featured world-renowned violinist Gil Shaham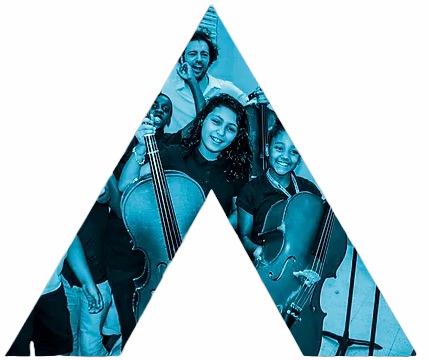 Examples of GBS Educational Programs
GBS High School Mentorship Program
This program (generously endowed through ARPA/the City of Bridgeport) provides gifted Bridgeport-resident youth the opportunity to be mentored by GBS musicians, with the eventual goal of having them audition for the Music Director, and possibly perform with GBS in a true side-by-side experience. The aim is to have a contingent of qualified Bridgeport students on stage with GBS at one concert every season.
"Teamwork" Video Project
Production is currently underway for a four-part video series (sponsored by the Richard and Alma S. Hiendlmayr Education Fund) showing the year-long process it takes to produce a Classical music concert, from initial planning and budgeting right through to performance. The videos will show all aspects of making a concert: musicians practicing in their homes, marketing and publicity, stagecraft, rehearsals, front-of-house activities at concerts, and much more, so that all of the various career paths in Classical music production are showcased. Though this video is primarily intended for use in high schools, GBS imagines that this film will be of great interest to our concertgoers as well.
In-School Concert and School Visitation
Since 2017, GBS has brought the full orchestra into one of the Bridgeport public high schools every season. The experience is magical. One can see the transformation of opinion and impact during these concerts, as students put away their cell phones and realize that unique music is being made by 50 to 70 people right in front of them, with no electronics or enhancements. Each year many students remain after the concert to talk to the conductor and musicians, and free tickets to concerts at The Klein are provided for students and families.
Our Conductor along with other GBS musicians, have visited most of Bridgeport's elementary schools since 2016. These sessions, which have had between 15 and 200 schoolchildren in attendance, are fun, personal experiences, during which the kids ask questions and become part of the music being made. Free tickets are offered for students and their families.
"Right Brain-Left Brain Workout" at Bryant Elementary School, Bridgeport
This wonderful after-school program focused on percussion instruments with the aim of creating a Bryant School Xylophone Orchestra. Instruments were purchased through GBS, which also provided GBS musicians and coordination of the program. The program features individual musicians and ensembles, and combined literature, story-telling, music and composition.
Percussion Program at Black Rock School, Bridgeport
GBS has provided a focused percussion program with in-school classes and presentations conducted by GBS musicians for Bridgeport Public School students in grades 3 through 8. The program is currently on hold due to the Pandemic.
School Subscription Programs
GBS provides $10 tickets for any student under 19 to all of our concerts; accompanying adults get 15% off their ticket purchases. We provide deeper discounts for school groups. Please call our office at (203)576-0263 for details.
Eldercare Facility Visits
Education doesn't end with high school. GBS regularly makes visits to local eldercare facilities to make concert video presentations and bring GBS musicians in for live performances. GBS also offers deep subscription discounts for eldercare groups, and provides easy barrier-free access with convenient seating. For more information, please call our Executive Director at (203) 576-0263.